If you're sick and tired of fighting cravings and also want a mental boost, consider buying CraveTM. - Dr. Helen Okoye
Cravings Are A Major Roadblock - Let's Move Them.
When we quit a substance or bad habit, we all do similar things to insure that we stay stopped. We fill our lives with 12 step groups, therapy, exercise, yoga, ect. - these things can be great, and if they are working, stick with it. But there's more - they all have similar things in common
they demand a HUGE commitment of our time.
they can be very expensive.
they are all public facing and can be embarrassing.
It can all feel pretty overwhelming, and if we don't stick with them, BOOM we find ourselves right back into that same spiral. What if there was an additional tool - one that you can take privately without embarrassment, without a time commitment, that costs less than a daily one-way bus ticket?
"You want more than anything to live a fulfilling badass life, but sometimes you get powerful cravings out of nowhere and this increases risk of going back to that old way of life…"
You Are Not The Only One..
Let's lower your chances of failure, shall we? But first, let's look at the stats. Almost 10% of the population struggle with Drug and Alcohol use, and they experience negative consequences from overusing them. And, over 15% of the American population is dependant on nicotine.
ALCOHOL
15.1
Million
People dependant on alcohol In the United States*
NICOTINE
50
Million
People dependent on Nicotine in the United States*
DRUGS
7.4
Million
People dependent on drugs In the United States*
ALCOHOL & NARCOTICS
50%
OF AMERICANS
Have a loved one who is dependent on alcohol or narcotics*
For those that have tried quitting these habits, the chances of sustained success are low. You know this better than anyone. Therapy, meditation, exercises and diets are great - but they don't always cut it off. You may need something more, something science approved that can reduce cravings and help re-optimize mental performance as fast as humanly possible.
Students
---
Achieve your best in academics and focus on tasks without suffering from anxiety, stress and instability of cravings.
Athletes
---
Increase your odds significantly and get more from your body with a better focus, motivation and peace of mind.
Professionals
---
Cravings are a risk and a distraction. Advance yourself with an undeniable mental edge in the workplace. Learn faster, solve problems easier and be more productive.
Family And Friends
---
All of us have our loved ones that we want to see succeed more than anything. Encourage their success with Crave™ - a gift that makes a meaningful impact.
Meet CRAVE, a scientifically backed supplement that is proven to reduce cravings to drugs, alcohol, nicotine and sugar.
CraveTM is the world's first ALL NATURAL anti-craving, mental performance supplement, developed to increase your chances of sustained success by naturally rebalancing the neurotransmitters and reward systems in your brain that have been negatively affected by external substances like drugs, alcohol, nicotine, and sugar.
When the brain is back in balance, supported by lifestyle changes and supplementing with Crave™, the craving cycle can be interrupted.
Interrupt The Craving Cycle
Cravings, memory loss, decreased motivation and mental fog can last for months or years after you gave up your habit. And that, my friend, is a recipe for failure and frustration.
Ingredients
NAC
A powerful antioxidant studied to reduce drug and alcohol cravings, impulsive actions, and inflammation*
Lion's Mane Mushroom
This mushroom superpower supports stress relief, mood, brain cell development and memory improvement.
Huperzine A
A natural moss extract studied** to inhibit addictive behavior and also increases memory and mental performance.
L-Theanine
An amino acid shown to improve sleep quality, anxiety, and mood.
Magnesium
It's one of the most important minerals for the body. It fights stress, anxiety, and depression.
Chromium
This heaven sent mineral supports serotonin and norepinephrine levels, so you feel better, while regulating blood sugar and decreasing sugar cravings.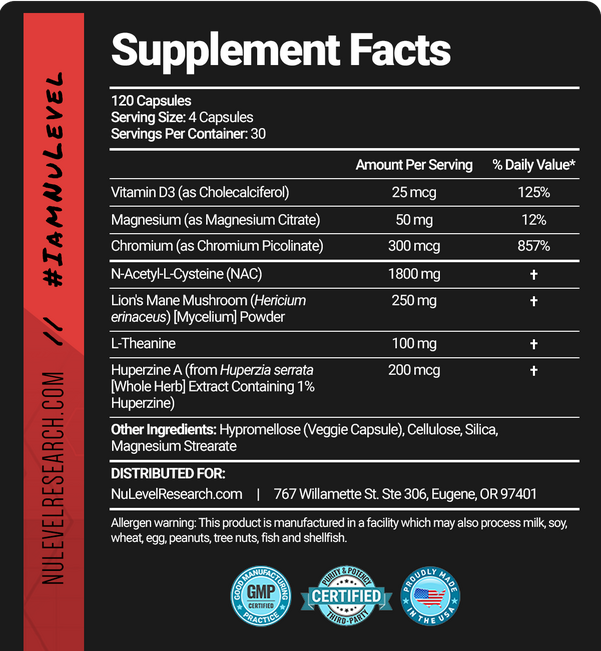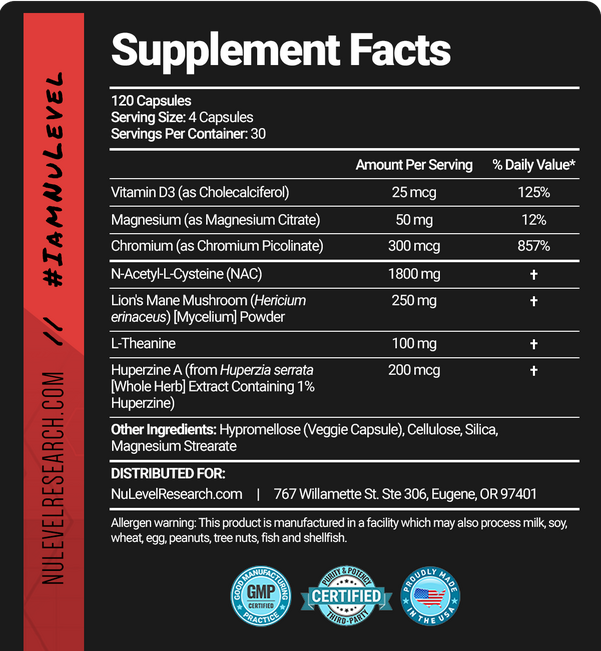 See What All The Buzz Is About
Casey R - Puerto Rico
Halie - Bend
Nick - Oregon
Crave
TM

System

1: Commit to Change

I don't care if you are just starting out and trying to better your life, or if you've been kicking ass for a while but it still feels like something is missing.

You are hoping for something better or you wouldn't be here looking at a craving support supplement. Change starts today, this is your commitment to yourself.

2: Take Action

There are no miracle pills, so you'll have to take action to achieve your goals. That can be as simple as being more honest with yourself and the people around you, being a better friend, or joining a sports team or a yoga studio.

Action comes before a change - and if you want to feel better, you have to do better. What are 2 small steps you can make today towards bettering your body, mentally and physically?

3: Supplement with Crave™

You want more than anything to live a fulfilling badass life, but sometimes you get powerful cravings out of nowhere, and this increases risk of going back to your old way of life.

Imagine reducing the intensity and frequency of cravings right away, while simultaneously boosting mood, memory and motivation. This is the most powerful anti-craving and cognitive support formula available online!
See What Other Crave
TM

Customers Are Saying
-Austin Cooper @Soberevolution
"I decided to take Crave this morning before I left for work (my first day back in the office since the lockdown began) and although I haven't craved any drugs or alcohol, I do vape lol and I easily noticed that I didn't feel the need to walk outside and smoke nearly as often as I normally would. I also have felt calm under high stress situations. Is that something that Crave is designed to do as well? If so, then it's definitely doing it's job."
Still Thinking This?
"Does it really work?"
The ingredients in Crave™ have been adopted by professionals around the world as the best natural remedies to craving and mental clarity. NAC, Chromium, and Huperzine have been studied and found to reduce the frequency and intensity of cravings to substances and carbohydrates/sugar. We don't hide our ingredients in proprietary blends like other manufacturers.
"Is this another drug?"
No! None of the ingredients are habit forming and Crave™ will not alter your state of mind. The formula is all natural and contains no GMOs, Amino acids, herbs, etc. Crave™ is made in a GMP certified facility in the USA.
"Why should I trust you?"
You don't have to trust us, Google us! We have thousands of happy customers and positive ratings on all platforms. We are endorsed by doctors and professionals that were not compensated by our company. Our company NuLevel Research has been featured in large media outlets like Fox, NBC, ABC, LA Wire, NYWeekly, and more!
"It's too expensive."
We have a 60 day money back guarantee.
Take Crave daily for 30 consecutive days. If you are dissatisfied, contact us for a full refund on any unopened bottles.
Get Yours Now
Let's Get Started
"Your job is to fail forward. From this day on, when you fall down, it's your job to get back up as soon as humanly possible."
-
NuLevel Research Founder.
Contact Us

(855) 966-0096
Our Customer Care team is open from 8am - 5pm PST,  if we don't answer then we are with other customers, please leave a voice message and we will get back to you within 24 hours. Email: care@nulevelresearch.com
NuLevel Research
767 WILLAMETTE ST STE 306, EUGENE, OR 97401
Cocaine
A 2005 study funded by the National Institutes of Health (NIH) suggests that N-Acetyl-Cysteine, a common over-the-counter supplement, can reduce the cravings associated with chronic cocaine use. This research, released at the American College of Neuropsychopharmacology's (ACNP) annual conference is among the first to identify N-acetylcysteine (NAC) as a potential agent to modulate the effects of cocaine addiction. There is also early evidence in animal models of addiction to suggest that this chemical works similarly in the treatment of heroin addiction, and possibly alcoholism.
NAC is available over the counter as a supplement known for its antioxidant effects. Antioxidants are agents that clean up damaging free radicals in the body and are therefore thought to slow down the aging process of cells. The research was conducted specifically on because of its known metabolic pathway in the brain – affecting one of the same proteins as cocaine use.
"Cocaine is highly addictive and can have devastating effects on the health and well being of users," says lead researcher Peter Kalivas, Ph.D., Professor and Chair of the Department of Neurosciences at the Medical University of South Carolina (MUSC). "The discovery that a readily available supplement can reduce the intense cravings associated with cocaine use is an important finding for individuals undergoing treatment for cocaine addiction. Reduced craving might help addicted individuals restrain from abusing cocaine."
In the first phase of the study, Dr. Kalivas and the research team conditioned rats on a regimen of cocaine to establish their addiction. The rats in the treatment group were then treated with N-Acetyl-Cysteine. After treatment, the cocaine-addicted rats exposed to NAC were significantly less likely to seek out cocaine than those without NAC. Those treated with NAC ceased to actively seek cocaine, but showed normal food-seeking behaviors.
In the second phase of the study, conducted in the Department of Psychiatry at MUSC, N-acetylcysteine treatment was investigated in a small inpatient study (n=15) involving non-treatment seeking cocaine-dependent subjects. In this phase of research, subjects were asked to look at pictures that were either neutral (e.g., trees, boats) or cocaine-related (e.g., drug paraphernalia). Those individuals treated with NAC reported less craving for cocaine and spent less time looking at the cocaine-related pictures. In addition, when using a functional magnetic resonance imaging (fMRI) test, subjects treated with NAC had reduced brain activity in the prefrontal cortex, the area of the brain activated during cocaine craving and used to modulate the addictive behavior of chronic cocaine use. An open label trial, which was recently completed, indicated that cocaine-dependent patients could take Nacetylcysteine on an extended outpatient basis, with minimal side effects. More importantly, patients taking higher doses of NAC were more likely to complete the trial, providing further indication of the potential benefits of NAC.
"The potential to use NAC for the treatment of individuals addicted to cocaine is a major finding," emphasized Dr. Kalivas. "For those individuals who have the desire to end their addictive habit, a NAC supplement might help to control their cravings."
A larger clinical trial that will follow 282 cocaine-dependent individuals has just begun in order to further understand and corroborate how NAC works in the brain to reduce cocaine craving.
In addition to its antioxidant properties, N-acetyl-cysteine is currently used in a variety of other ways: to counteract the effects of an overdose of acetaminophen (i.e., Tylenol®), to break up mucus in respiratory ailments, to lessen the symptoms of colds or the flu, and even to reduce the effects of hangovers.
Cocaine is an illegal drug that acts as a powerful stimulant in the body. There are approximately 1.5 million Americans dependent on or abusing cocaine (i.e., chronic users). In addition, 2.7 percent of the general U.S. population has tried cocaine during their lifetime. Adults aged 18 to 25, particularly men, have the highest rates of cocaine use.
Key concepts: Antioxidant, N-acetyl cysteine, NAC, cocaine addiction
Nicotine
Abstract
Background
Tobacco smoking is a highly prevalent, addictive behaviour and a key public health priority. However available cessation therapies have low quit and high relapse rates, indicating an urgent need for more effective treatments. Predicated on promising preclinical and pilot clinical data, this paper presents a rationale and protocol for the trial of N-acetylcysteine (NAC) as a novel anti-craving smoking cessation aid.
Methods
Current smokers (n = 120) of at least 10 cigarettes a day are recruited through online advertisements, print publications and dissemination of flyers. Participants are randomised on a 1:1 ratio to receive either 16-week treatment of 1.8 g/day of NAC or placebo with all participants receiving quit support from the online QuitCoach tool. Participants are attending visits at baseline, 8 and 16 weeks with a 42-week post-discontinuation follow-up. The primary outcome measure is sustained abstinence at six months after treatment based on self-reported rating scales and confirmed by exhaled carbon monoxide and salivary cotinine levels. Secondary outcomes are timing of the first lapse and relapse, between-group cigarette consumption, withdrawal symptoms, general wellbeing and mood/anxiety symptoms. Between-group differences in adverse events and subgroup analyses for variables including gender and Diagnostic Statistics Manual 5 diagnostics will also be investigated.
Discussion
The planned trial addresses an issue of major importance to human health and, if an effect is shown, may result in substantial changes to the management of smoking and nicotine addiction with overt public health implications.
Trial registration
Australian New Zealand Clinical Trials registry (ANZCTR), ACTRN12617001478303. Registered on 19 October 2017.
---
Introduction
Tobacco smoking is the leading cause of preventable morbidity and mortality globally [1] and kills > 19,000 people in Australia each year [2], which includes between one-half and two-thirds of all long-term users [3]. While the prevalence rate in the general community has decreased over the past decade, linked to effective public health interventions, the rate of decrease in the prevalence of smoking has been slowing and there remains a substantial core group of persistent smokers.
It is essential to trial new strategies and medications to make further significant gains in reducing tobacco smoking. Developing a safer, better tolerated pharmacotherapy for smoking cessation is a critical step towards making further gains. Vulnerable groups and special populations may especially benefit from a low-cost, over-the-counter, effective pharmacotherapy with a better safety profile than existing pharmacotherapies such as varenicline and bupropion [4,5,6,7,8].
N-acetylcysteine (NAC) has antioxidant properties, both increasing glutathione and modulating glutamatergic, neurotropic, mitochondrial and inflammatory pathways [9]. NAC is a globally available nutraceutical supplement that is well tolerated, with a side effect profile that does not differ significantly from placebo in clinical trials when administered orally at doses up to 3 g/day with the exception of usually mild gastrointestinal side effects [10]. There are data to suggest that it is efficacious for reducing the number of cigarettes smoked [11] and relapse prevention [12]. NAC may also improve some of the physical harms caused by tobacco smoke exposure, improving mucociliary transport [13] and preventing oxidative damage to lung and other tissues [14, 15].
There are four small published pilot studies investigating the effects of NAC in nicotine dependence. A short-term abstinence study of heavy smokers (n = 22), treated for 3.5 days with NAC (3.6 g/day) or placebo, identified that NAC-treated participants reported that their first cigarette was significantly less rewarding when compared with the first cigarette of placebo-treated smokers [12]. A four-week, open-labelled study of tobacco smokers (n = 19) treated with NAC and varenicline reported a reduction in cigarettes smoked per day [16]. A randomised trial reports that after four weeks of 2.4 g/day of NAC treatment (n = 33, compared with placebo), there was a significant decrease in the number of cigarettes smoked, but no reduction in craving, withdrawal symptoms or level of carbon monoxide.
In another pilot trial, participants were randomised to 12 weeks of 3 g/day NAC (n = 17) or placebo (n = 17) adjunctive to addiction-focused cognitive behavioural therapy. NAC treatment significantly reduced the number of cigarettes smoked daily, exhaled carbon monoxide and improved depression scores. Quit rates were 47.1% in those treated with NAC versus 21.4% of placebo-treated patients. There were no significant differences in treatment emergent adverse events (AEs) between both groups. These pilot data are very promising [17] and suggest the need for larger more definitive trials of NAC for smoking cessation.
Study aims and hypotheses
The aim of this study is to investigate the efficacy of NAC (1.8 g/day) for smoking cessation in a randomised, placebo-controlled trial of current smokers who wish to quit smoking. The primary outcome measure will be 24 weeks of continuous abstinence from end of treatment (EoT; 16 weeks) in tobacco smoking, confirmed by biological measures. Secondary outcome measures include point prevalence abstinence, time to relapse and total cigarette consumption. Safety, tolerability and subgroup analyses will also be conducted.
It is hypothesised that: (1) treatment with NAC will be superior to placebo for smoking cessation at follow-up (week 42), confirmed by assaying exhaled carbon monoxide, salivary cotinine (COT); and (2) treatment with NAC will be superior to placebo for smoking cessation at treatment endpoint (week 16), confirmed by assaying exhaled carbon monoxide, salivary COT.
Methods
---
Overview
This is a double-blind, randomised, placebo-controlled trial, to compare 1.8 g/day of NAC with placebo for smoking cessation, conducted over a period of 16 weeks. A six-month post-treatment discontinuation (week 42) follow-up is assessing ongoing abstinence. Data are collected by interview at baseline and weeks 8 and 16, and at the follow-up visit, six months after completion of the trial or 42 weeks in total. The trial has approval from the relevant research and ethics committees and is being conducted in accordance with the Good Clinical Practice (GCP), Australian Clinical Trial guidelines and the National Ethical guidelines for Human Research. The trial is registered on the Australian New Zealand Clinical Trials registry (ANZCTR), ACTRN12617001478303. This study was approved by the Barwon Health Human Research Ethics Committee (reference: 17/15).
The study is being conducted at two sites, Barwon Health, Geelong and the Deakin University Burwood campus. Participants (n = 120) are randomised to 16 weeks of treatment with NAC (1.8 g/day) or placebo effervescent tablets taken with water. The first participant was recruited in November 2017 and recruitment is ongoing. The study is being sponsored by Barwon Health and is supported by the ARC Harry Windsor Research Grants Scheme 2017.
Inclusion and exclusion criteria
Participants are required to meet the following criteria: currently planning to quit tobacco smoking and set a quit date no more than one week from the proposed trial commencement date; aged ≥ 18 years; capacity to consent to the study and to follow its instructions and procedures; current daily smoker of ≥ 10 cigarettes per day. Participants are ineligible to enter the trial under the following conditions: known or suspected clinically unstable systemic medical or psychiatric disorders that require acute medical treatment; current use of oral glucocorticoids; active gastrointestinal ulcers; pregnancy or breastfeeding, or planning a pregnancy within six months; current use of > 500 mg NAC/day; a history of anaphylactic reaction to NAC or any component of the preparation. Only one member of a household is permitted to participate in the trial concurrently to minimise cohort-confounding effects. There are no restrictions on bupropion, varenicline or nicotine replacement therapy (NRT) use before the baseline visit. Female participants are required to be utilising effective contraception if of childbearing age and sexually active.
Withdrawal criteria
Participants are withdrawn from the trial under the following conditions: failure to take the trial medication for seven consecutive days; pregnancy; emergence of serious AEs suspected to be associated with the trial medication; or commencement of a different pharmacotherapy for smoking cessation during the 16-week treatment phase. Participants will be questioned about these events and their adherence to the study protocol at the bi-weekly telephone interviews during the treatment phase of the study. Withdrawal of consent at any time in the study will result in immediate withdrawal from the trial.
Recruitment
Recruitment is anticipated to occur mainly through targeted online advertising. Other recruitment techniques will include the use of flyers, which will be displayed in the waiting rooms of health services and other conspicuous locations. Print and radio advertisements will be included where possible. Following initial contact by potential participants, a researcher will establish that inclusion and non-inclusion criteria are satisfied. Written informed consent for the trial will be obtained from all participants at the first meeting.
Trial procedure
All participants will provide informed written consent before they undergo a baseline face-to-face interview with a trained researcher. Participant contact will be conducted using procedures adapted from the treatment manual for the Healthy Lifestyles Program [18, 19]. Consented participants are randomised to receive NAC or placebo through a 1:1 allocation ratio and commenced on a standardised smoking cessation program using the automated QuitCoach website. The QuitCoach is a tailored, Internet-delivered smoking cessation advice program [20]. It is designed to replicate face-to-face multi-session smoking cessation counselling. QuitCoach has been shown to be well accepted by people who are planning to quit smoking and can be successfully combined with pharmacotherapy [21]. Participants will be randomly and sequentially allocated, in a double-blind fashion, to receive NAC or placebo from day 0 of the treatment phase of the study to the end of week 16. A fixed dose regime of 1.8 g/day of NAC, administered as one 900 mg effervescent tablet, is to be dissolved in a glass of water and consumed, twice daily. To facilitate the double-blinding process, the trial medications (both NAC and placebo) will be dispensed in identical numbers and tablet formulations in sealed containers by the trial pharmacist, who will also perform the tablet counts to monitor adherence. Participants will collect their medications from the trial clinician at baseline and at the eight-week study visit.
Collection and handling of biological samples
Saliva will be collected at baseline and at weeks 8, 16 and 42 for COT measurements. Before the baseline meeting, participants will be provided with the following instructions: (1) avoid foods with high sugar or acidity, or high caffeine content immediately before sample collection; (2) do not eat a major meal within 60 min of sample collection; (3) do not consume alcohol within 12 h of sample collection; (4) participants should not brush their teeth within 45 min before sample collection; (5) dental work should not be performed within 24 h before sample collection. The trial clinician will document consumption of alcohol, nicotine, caffeine and medications in the 12 h before collection, as well as vigorous physical activity and the presence of oral disease or injury. Saliva collection is performed by instructing participants to allow saliva to pool in the mouth and then drool through the Salimetrics Saliva Collection Aid into a cryovial. This sample is stored in a – 80 °C freezer until it is time for analysis. An enzyme-linked immunosorbent assay (ELISA) will be performed to determine levels of COT in the samples. Samples are collected at each participant meeting.
Allocation and concealment
Individuals will be assigned in a 1:1 ratio using permutated block randomisation to treatment with NAC or placebo, in a double-blind fashion. The randomisation code is generated by an independent researcher and held by the pharmacy to maintain blinding. The randomisation code remains concealed until all data analysis has been completed (triple-blind design). Unblinding for emergency situations is undertaken by the pharmacy, with the approval of the Principle Investigator.
Treatment adherence and fidelity
The trial medications will be supplied by the trial pharmacist; participants will be instructed to return all containers to allow capsule counts. Concordant with SPIRIT guidelines, adherence will be assessed by pill counts of returned medication packs. Use of QuitCoach will be monitored by participant self-report (Additional file 1).
Variables and instruments
---
The primary outcome of this aid-to-cessation trial will be between-group differences in continuous abstinence for the 26-week period between weeks 16 and 42. The primary outcome is measured at six months post-treatment discontinuation (week 42) rather than at treatment discontinuation (week 16), in line with the Russell Standard for international smoking cessation research [22]. To assess self-reported smoking habits, participants will complete a timeline followback (TLFB) at each contact visit. This measure has been shown to be accurate up to 12 months before interview [23]. Abstinence from smoking will be measured by self-report, exhaled carbon monoxide (COEXH) < 10 ppm measured using a Micro+ Smokerlyzer (Bedfont Scientific) and salivary COT < 50 ng/L, which is a sufficient margin to allow for passive tobacco smoking. COEXH may be < 10 ppm in non-abstinent participants who have not smoked within 2 h [24]. Smoking cessation will be confirmed if COEXH levels are < 10 ppm and COT is < 50 ng/mL. Where participants self-report use of non-tobacco nicotine, COEXH will be used to confirm abstinence. Secondary outcomes will include the timing of the first lapse and first relapse, based on a dichotomous variable and defined as self-reported smoking seven days in a row at any time between two weeks after quitting and the trial end. Prolonged abstinence will also be reported and defined as any slips or lapses following the quit date [25].
At the baseline visit, the Fagerström Test for Nicotine Dependence and a smoking history questionnaire will be administered. The smoking history questionnaire will explore how long the participant has smoked for (e.g. age of first use, duration of use), their average consumption of cigarettes and the number of previous attempts to quit smoking. Data will also be collected regarding how determined they are to give up smoking on this attempt (on a Likert scale of 1–4) and to rate their chances of permanently quitting on this attempt (on a Likert scale of 1–6). The Minnesota Nicotine Withdrawal Scale will be administered to assess urge to smoke among other withdrawal symptoms, depressed mood, irritability, anxiety, difficulty concentrating, restlessness, increased appetite and sleep. Participants will also complete the Brief Questionnaire of Smoking Urges, which assesses cravings related to desire to smoke and expectations of positive effects anticipation of relief from negative affect. Demographic data, lifetime history of smoking (e.g. motivation, readiness to quit, previous attempts), level of social support, self-reported medical and psychiatric history will also be collected at baseline. A psychiatric diagnostic interview (SCID-5-RV), based on the DSM-5 will be conducted at baseline. The WHO ASSIST and AUDIT will be collected at baseline and visits at weeks 8 and 42. The Standardised Assessment of Personality – Abbreviated Scale (SAPAS), a brief screen for personality disorder, will be used at baseline. The WHO-5, Depression, Anxiety, and Stress Scale (DASS-21) and K10 will be administered at baseline and at weeks 8, 16 and 42 (Table 1). To optimise retention and adherence with the treatment protocols, telephone contact will be made with each participant once a fortnight beginning one week after baseline. Progress and adherence self-report data will be recorded on a questionnaire at these telephone calls. Participant reports of adverse effects will be recorded, appropriate interventions according to medical assessment will be implemented and AEs will be further monitored. Six months following the final study visit the participant will be contacted and a follow-up questionnaire conducted to assess if participants have continued to smoke, and at what level, since completing the trial. COEXH and COT measures will be taken.
Safety and tolerability outcomes will be assessed by comparison of reported AEs for all NAC-treated and placebo-treated participants and for subgroups. Subgroup analyses will be performed for groups categorised by variables including gender and SCID diagnosis. Participants will be considered to have completed the study if they completed all follow-up examinations to week 42. Individuals who never quit or who relapse (defined as smoking on seven consecutive days), will be examined separately as well as pooled as treatment failures. Non-cigarette tobacco use, but not non-tobacco nicotine use, will be categorised as smoking.
Intended use of bupropion, varenicline or NRT during the 42-week trial period will not be permitted but is only a withdrawal criterion if used during the 16-week treatment period. Some participants may decide to use NRT during the 42-week study. Although this is contrary to the directions given to participants in the study, it is not a study withdrawal criterion and these participants may remain in the study. COT levels will be measured using chromatographic techniques.
Key outcome variables
---
Data management and integrity
Confidentiality
Records of participation in this study will be held confidential so far as permitted by law. This will include de-identification of all documents relating to the trial by assigning a random number that will identify participants in terms of a dataset and not an individual. However, researchers, regulatory agencies and the Barwon Health Human Research Ethics Committee (HREC) will be able to inspect and have access to confidential data that identify participants by name.
Inter-rater reliability
The measures listed under 'Variables and instruments' in the study design section will be co-rated by trained trial clinicians. Inter-rater reliability will be checked before commencement of the trial and repeated every six months during the trial, using a standardised videotaped patient interview. Raters will need to achieve an intraclass (model 2,1) correlation score of 0.8 and will undergo further training as necessary during the study to maintain inter-rater reliability.
Sample size
The sample size was initially determined to be 360. In order to detect a 7% difference between the groups (with six-month smoking cessation, including participant attrition estimated at 1%), the sample size has been calculated for a Cochran-Mantel-Haenszel (CMH) test to acknowledge a cluster randomised design with three recruitment centres as strata (each with an overall six-month smoking cessation of 1% for placebo). A sample size of 180 in the NAC group and 180 in the control group (across three roughly equal size strata) achieves 80% power to detect an odds ratio (OR) = 7, assuming a two-sided type I error of 0.05. The sample size also achieves 80% power to detect a 7% difference in six-month smoking cessation between NAC and placebo groups assuming two-sided alpha = 0.05 and an 8% inflation of the required sample size due to clustering. However, the current trial has a recruitment target of 120 in total, with the intention of scaling up as more funding is acquired.
Statistical analysis
A modified 'intention-to-treat' approach, following CONSORT Statement guidelines, will be used. Missing values will be scrutinized to check for non-random distribution and analyses that utilize baseline data will be executed twice: once using observed data and once using multiple imputation under multivariate normal assumptions. The CMH test will be used to compare the proportions of relapse between the treatment groups (control versus intervention). The common OR and its 95% confidence interval will also be reported as well as the results of the Breslow-Day test for homogeneity of the ORs across the strata. In further supportive analyses, generalized linear mixed models (GLMMs) will be used to compare the rates of relapse after adjusting for baseline measurements and to explore possible interactions between baseline factors and the intervention. Average treatment group differences for the continuous secondary outcomes will be examined using a likelihood based mixed-effects model, repeated measures approach (MMRM). The MMRM models include the fixed categorical effects of treatment, visit and treatment-by-visit interaction, as well as the continuous fixed covariates of baseline score and baseline score-by-visit interaction. Effect sizes will be calculated using Cohen's guidelines. All comparisons will be conducted using a two-sided alpha level of 0.05. There will be no interim analysis.
Study management and governance
Barwon Health is the sponsor of this study. The sponsor is indemnified for any harms arising from trial participation and it approves protocol amendments when ethics approval has been obtained. Principal investigators and trial clinicians manage the day-to-day running of the trial. Principal investigators are three well-established and experienced researchers in relevant fields. Itemised lists of various trial staff members are as follows:
Principal Investigators:
Trial design
Publication of study reports
Study planning
Provision of expertise to problem resolution
Media promotion
Funding application and management
Clinical Trial Coordinator:
Case report form creation and management
Research staff management
Participant recruitment, contact and interviewing
Liaison with external bodies (e.g. pharmacy, suppliers)
Maintenance of trial equipment
Training of research staff
Organisation of research team meetings
There is no Data Management Committee for this trial due to the small sample size; however, independent data integrity will be assessed by independent researchers as required. Trial progress and processes are assessed every two weeks by the principal investigators at a research team meeting.
Post-trial data provisions
A summary of the data will be provided to each participant along with whether they took the active or placebo medication. This information will be provided at the soonest reasonable opportunity after trial completion and will be provided electronically. The results will be published and disseminated throughout both formal and informal collegiate settings.
Sharing of deidentified participant-level data
There is currently no plan to share participant-level data with external individuals.
Conclusion
---
Tobacco smoking is a major preventable cause of morbidity and mortality. NAC may provide a safe, novel and effective treatment for smoking cessation, at low cost. The tolerability and safety of NAC as well as its efficacy in co-morbid psychiatric symptoms may have advantages in special populations compared to other pharmacotherapies for smoking cessation. If positive, of the use of NAC could be translated immediately into practice and established as a new treatment for smoking cessation. NAC additionally has a clearly elucidated potential mechanism of action in addiction. The planned trial, if positive, may result in substantial changes to the management of smoking with overt public health implications.
Opiates
Abstract
There is a clear and pressing need to expand pharmacotherapy options for substance use disorders (SUDs) in order to improve sustained abstinence outcomes. Preclinical literature has demonstrated the role of glutamate in addiction, suggesting that new targets for pharmacotherapy should focus on the restoration of glutamatergic function. Glutamatergic agents for SUDs may span multiple addictive behaviors and help demonstrate potentially overlapping mechanisms in addiction. The current review will focus specifically on N-acetylcysteine (NAC), a safe and well-tolerated glutamatergic agent, as a promising potential pharmacotherapy for the treatment of SUDs across several substances of abuse. Building on recently published reviews of the clinical efficacy of NAC across a broad range of conditions, this review will more specifically discuss NAC as a pharmacotherapy for SUDs, devoting particular attention to the safety and tolerability profile of NAC, the wealth of preclinical evidence that has demonstrated the role of glutamate dysregulation in addiction, and the limited but growing clinical literature that has assessed the efficacy of NAC across multiple substances of abuse. Preliminary clinical studies show the promise of NAC in terms of safety, tolerability, and potential efficacy for promoting abstinence from cocaine, nicotine, and cannabis. Results from randomized clinical trials have been mixed, but several mechanistic and methodological factors are discussed to refine the use of NAC in promoting abstinence and relapse prevention across several substances of abuse. Further preclinical and clinical investigation into the use of NAC for SUDs will be vital in addressing current deficits in the treatment of SUDs.
1 Novel Pharmacotherapies for Substance Use Disorders (SUDs)
---
Substance use disorders (SUDs) represent a significant and pressing public health concern. Estimated costs in the form of healthcare expenditures, drug-related crime, and lost productivity total approximately $621 billion per year when considering both illicit and licit (i.e. tobacco and alcohol) substances in the US (illicit drugs and tobacco) and globally (alcohol) [1-3]. In 2011, approximately 20.6 million Americans aged 12 years or older reported substance dependence or abuse of illicit drugs and/or alcohol, while 68.2 million Americans aged 12 years or older reported use of a tobacco product in the past month [4]. Additional estimates indicate that 43.8 million (19.0 %) adults (≥18 years of age) in the US were current cigarette smokers [5]. Despite advancements in the treatment of SUDs, many individuals fail to access treatment resources, and even fewer receive treatment that results in sustained, long-term abstinence. Treatment efforts for SUDs require significant refinement in order to maximize the chances of successful recovery from these chronic and relapsing disorders.
As the complex and multifaceted mechanisms contributing to SUDs have more closely aligned with a medical model of disease [6], first-line pharmacotherapeutic treatment interventions have been explored extensively in research and clinical practice. In the search for effective pharmacotherapeutic medications to treat SUDs, a number of promising agents have been identified throughout the years. For example, in the mid-1960s agonist replacement therapies for opioid addiction (i.e. methadone maintenance) were demonstrated to be effective in improving treatment outcomes [7], thus representing a pivotal moment in the treatment of SUDs. Agonist replacement therapies for opioid addiction, such as methadone and buprenorphine, continue to be widely accepted and enduring evidence-based pharmacotherapies for opioid-dependent patients [8]. Replacement pharmacotherapy has also been a key strategy in treatment guidelines for nicotine dependence [9]. A major advantage to replacement pharmacotherapies is that they are substance-specific, but this may also prove to be a weakness when considering the potential need to apply pharmacotherapy across multiple substances of abuse.
Many first-line pharmacotherapies improve the likelihood of sustained abstinence, but vary greatly in treatment outcomes, and many still suffer from generally poor outcomes. Several first- and second-line pharmacotherapeutic options exist for substance-specific SUDs and pathological gambling, and are discussed at length in a recent review by van den Brink [10]. Within the smoking cessation literature, nicotine replacement therapy (NRT), bupropion, and varenicline have been shown to increase the odds of quitting smoking by two to threefold compared with placebo [11]. However, even with varenicline, arguably the most efficacious smoking cessation pharmacotherapy, abstinence rates after 12 weeks of treatment are still only approximately 40 % [12-14]. Modest effect sizes have been demonstrated for pharmacotherapies for alcohol dependence that function to reduce the reinforcing effects of alcohol and reduce craving, such as naltrexone and acamprosate [15, 16]. Several pharmacotherapies for cannabis dependence have been explored with mixed results, and few positive controlled clinical trials exist to guide clinical practice [17, 18]. Finally, there are currently no US FDA-approved medications for cocaine and other stimulant dependence, although some have suggested that agonist replacement approaches may be a fruitful avenue to explore [19]. Unfortunately, the abuse potential of stimulant pharmacotherapy has dampened enthusiasm for agonist replacement therapies for stimulant dependence. Even in the case that highly effective pharmacotherapies are developed for specific substances of abuse, this does not address the issue that many individuals report using multiple substances of abuse [4], and some may use multiple substances concurrently. Use of other substances (particularly licit substances) during a treatment episode may persist and even increase during the course of medication-assisted treatment.
There is a need to improve and expand pharmacotherapy options for SUDs. Extensive preclinical literature exists highlighting the role of glutamate in addiction. More specifically, chronic drug exposure in non-human animal models leads to enduring alterations in glutamatergic signaling and the downregulation of the cystine-glutamate exchanger [20, 21]. Glutamatergic agents may restore that functioning, thus providing ample justification to target glutamatergic signaling in the treatment of SUDs in clinical populations. New targets for pharmacotherapy that span multiple addictive behaviors would be beneficial and may help to demonstrate potentially overlapping mechanisms in SUDs. The current review will focus specifically on N-acetylcysteine (NAC) as a promising potential pharmacotherapy for the treatment of SUDs across several substances of abuse. NAC is an N-acetyl prodrug that acts primarily on the glutamatergic system. Preclinical studies have demonstrated the efficacy of NAC in restoring normal glutamate signaling and reversing addiction pathology. The clinical literature focusing on NAC for SUDs is relatively limited, but preliminary work to date has shown the promise of NAC in terms of safety, tolerability, and potential efficacy for promoting abstinence from cocaine, nicotine, and cannabis. Building on several excellent reviews that have been published recently on the utility of NAC in the treatment of a range of conditions [22-24], this review will more specifically discuss NAC as a pharmacotherapy for SUDs, devoting particular attention to the safety and tolerability profile of NAC, the preclinical evidence that has demonstrated the role of glutamate dysregulation in addiction, and the limited but growing clinical literature that has assessed the efficacy of NAC across multiple substances of abuse. We conducted an extensive PubMed literature search through December 2013. The following keywords were used in our search: 'N-acetylcysteine', 'substance use disorders', 'addiction', 'pharmacotherapy', 'glutamate', 'translational', 'relapse', and 'abstinence'. We also explored references cited in relevant articles and review papers.
2 Overview of N-Acetylcysteine (NAC)
NAC is an N-acetyl prodrug of the naturally occurring amino acid cysteine. The chemical structure of NAC is shown in Fig. 1. NAC is available by prescription in intravenous, oral, and nebulizer forms. It is also sold orally as an over-the-counter product in health food stores. Oral bioavailability of NAC has been shown to range from 4–10 % [25, 26]. NAC has a long-established safety record in adults and children, with FDA approval since 1963. NAC has clinical efficacy as a mucolytic agent for bronchopulmonary disorders [27] and in the treatment of chronic obstructive pulmonary disease (COPD) [28]. It is also used as an oral or intravenous antidote to treat acetaminophen poisoning, acting as a precursor for the synthesis of the antioxidant glutathione (GSH), and forming complexes with toxic reactive oxidative metabolites of acetaminophen, ultimately preventing hepatic cell necrosis [29]. A meta-analysis of studies evaluating long-term oral treatment with NAC for the prevention of chronic bronchitis found that NAC was well-tolerated. Adverse events reported in those trials were generally mild and most commonly included gastrointestinal events that did not require medication termination [27]. Local irritation has also been reported when NAC is administered as a mucolytic [30]. Systemic allergic reactions to NAC have been observed, but only with intravenous administration [31, 32], and seizures have been reported at very high intravenous doses [33]. NAC may be appropriate among varying age groups since it has been used safely for several decades in adults and children, often at doses greatly exceeding those typically used in research studies [34, 35].
Research interest in NAC has grown amid increasing evidence of its clinical efficacy in the treatment of several psychiatric disorders. A recent review by Berk and colleagues [22] summarized the literature on the uses of NAC in neuropsychiatry, specifically in the treatment of SUDs, pathological gambling, obsessive-compulsive disorder (OCD) and other compulsive disorders, schizophrenia, unipolar depression, bipolar disorder, and autism, as well as neurodegenerative disorders such as Alzheimer's and Parkinson's diseases. That review noted the promising efficacy of NAC as a pharmacotherapy among these diverse disorders; however, it was also noted that many trials with NAC were preliminary and further study through controlled efficacy trials is required. Additionally, NAC has been studied for the treatment of psychiatric disorders based on its antioxidant properties. It has been suggested that oxidative stress may function as a mechanism underlying psychiatric disorders, including bipolar and anxiety disorders, depression, and SUDs, in addition to other diagnoses such as autism and attention-deficit hyperactivity disorder [36]. GSH is depleted during oxidative stress, which can be reversed with NAC treatment [37], and providing evidence to pursue GSH as a novel therapeutic target for psychiatric disorders [38]. Furthermore, in rodent models NAC has been shown to reduce myocardial oxidative stress due to chronic ethanol administration [39, 40].
Specific to the treatment of SUDs, there is increasing evidence to support the role of glutamatergic signaling in addiction [20, 21, 41-43], which will be discussed in greater detail in this review. NAC may be a particularly attractive candidate pharmacotherapy for SUDs given its favorable safety profile and the preclinical evidence of its reversal of (i) glutamatergic dysregulation and (ii) GSH depletion and oxidative stress. In the following sections, the role of glutamate in addiction will be discussed, as well as the preclinical literature assessing the influence of NAC on neural plasticity, restoring cystine-glutamate exchange, drug self-administration, and reinstatement of drug seeking in an animal model.
3 Dysregulation of Glutamatergic Signaling in Addiction
Animal models mimicking aspects of human addiction allow deep exploration of the neurobiological changes induced with prolonged administration of substances of abuse. In these models, neurobiological alterations have been examined following various timepoints of withdrawal from a substance of abuse. Following periods of withdrawal (i.e. 1–14 days, up to 3 months) from self-administration of a substance of abuse such as cocaine, heroin, or nicotine, dysregulation of glutamatergic signaling has been found within a corticostriatal circuit [prefrontal cortex (PFC)–nucleus accumbens (NA)] [41, 44-46]. Extensive evidence indicates that chronic exposure to addictive drugs decreases the expression of the excitatory amino-acid transporter-2 (EAAT2), also known as glial glutamate transporter-1 (GLT1), in the NA [44, 47-49]. This decrease in turn reduces glutamate elimination from the extracellular space and contributes to the spillover of synaptically released glutamate during reinstated drug seeking [50-52]. Activity in this impaired state is represented in Fig. 2a. After withdrawal from chronic administration of cocaine, reduced basal extracellular glutamate occurs in conjunction with a decrease in expression and function of both glial proteins, including the catalytic subunit of the cystine-glutamate exchanger system (Xc− system; xCT, glial catalytic subunit) and GLT1 in the NA (note that nicotine and cocaine reduce system Xc−, while all addictive drugs tested to date elicit enduring reductions in GLT1) [44, 50-52]. This results in decreased tone on presynaptic inhibitory metabotropic glutamate 2/3 (mGluR2/3) receptors. Basal tone on these receptors provides a means of feedback inhibition and control of synaptic transmission. However, in the absence of this inhibitory tone, excessive glutamatergic transmission occurs [53]. The excessive release of extracellular glutamate during reinstated drug seeking arises from the decrease in GLT1 and stimulates extrasynaptic N-methyl-d-aspartate (NMDA) receptors and metabotropic glutamate receptor 5 [43, 54]. This sequence of events leads to a rapid, transient increase in synaptic plasticity rendering increased relapse vulnerability [55-57]. Indeed, GLT1 is strategically expressed near the synaptic cleft to minimize glutamate spillover into the extrasynaptic space [58]. Presentation of a drug or a cue associated with drug taking reinstates drug seeking in a preclinical model of relapse and this behavior is associated with elevated extracellular glutamate derived from synaptic activity in the PFC-NA pathway [44, 45, 59].
In addition to the glutamate overflow that occurs during a withdrawal state after chronic drug administration, recent evidence shows that reinstatement of drug seeking prompted by drug cues (i.e. cue-induced reinstatement) in cocaine- and nicotine-extinguished rats is associated with a rapid, transient long-term potentiation (LTP)-like plasticity in the NAcore [44, 56]. The LTP-like changes observed in these studies were quantified as increases in dendritic spine head diameter (dh) and in the ratio of α-amino-3-hydroxy-5-methyl-4-isoxazolepropionic acid (AMPA) receptor to NMDA-mediated excitatory postsynaptic currents (EPSCs; AMPA/NMDA) [60-62]. Importantly, both dh and AMPA/NMDA were significantly correlated with reinstated cocaine seeking. Since presynaptic and non-synaptic glutamate release regulates synaptic plasticity in both primary cell cultures and in vivo [63, 64], the LTP-like changes may arise from the reinstatement-associated increase in glutamate release and overflow [44, 45, 65]. Accordingly, the LTP-like plasticity was prevented by inhibiting PFC glutamatergic input to the NAcore [66]. Within the corticostriatal circuit, the NAcore is thought to serve as a 'gateway' through which information concerning behavioral output is processed from the limbic cortex to motor subcircuits [67, 68]. Throughout the addiction cycle, it is thought that the switch to compulsive drug seeking from controlled intake (i.e. recreational use) arises from an impaired ability of this circuit to successfully process negative environmental contingencies, leading to decreased capacity to inhibit prepotent drug-associated responses [41, 69]. This process thereby leads to heightened vulnerability to relapse. Although the NAcore is heavily implicated in relapse vulnerability, other striatal regions have been implicated in the extinction of drug seeking. Specifically, input to the shell subcompartment of the NA from the infralimbic cortex [70], and similar neuro-biological alterations, have been found in the NA shell as well as the core [47, 71]. Given the extensive disruption of glutamatergic input from the PFC to the NAcore, NAC may serve to restore this dysregulation. The following sections expand on the preclinical research on NAC that suggests its role in reversing addiction pathology.
4 Preclinical Literature Review
---
NAC is a cysteine prodrug with antioxidant properties via activation of the Xc− system [72, 73]. NAC enters cells after it is deacetylated to cysteine and rapidly oxidized to cystine, primarily through cysteine transporters. Once transported by Xc− into cells, cystine is reduced to cysteine for synthesis of GSH [72] (see Fig. 2b). High concentrations of NAC in tissue slices lead to glutamate release from xCT that potentiates EPSCs in NA medium spiny cells [74].
Following withdrawal from cocaine and nicotine, the xCT subunit of the Xc− system is reduced both in function and content [47, 48]. NAC activates the glial system Xc− to exchange extracellular cystine for intracellular glutamate in a 1:1 stoichiometry, thereby elevating non-synaptic glutamate and restoring levels of both xCT and GLT1 [59]. This increase in non-synaptic glutamate counters the reduced extrasynaptic levels after withdrawal from a drug of abuse [75]. The restoration of glutamate then activates the presynaptic mGluR2/3, which then reduces synaptic glutamate release and drug seeking [76]. Visual representation of the system restored through NAC treatment is shown in Fig. 2b. In contrast to previous work on the effects of NAC on xCT, recent work has found an important action of NAC on GLT1 in the reduction of drug seeking. Restoration of GLT1, but not xCT, was found critical for chronic NAC to inhibit cue-induced cocaine seeking [Reissner et al., unpublished], although the mechanism by which NAC restores GLT1 is currently unknown. It is possible that restoration of GLT1 after treatment with NAC will inhibit glutamate spillover into the extrasynaptic space via increased glutamate uptake [77], thus inhibiting activation of the primarily extrasynaptic NMDA receptor subunit, GluN2B [78]. This in turn may inhibit the rapid synaptic plasticity that has been demonstrated during drug seeking. The reduction in activation of GluN2B NMDA receptors could influence insertion of calcium-permeable AMPA subunit receptors (GluA1), which are increased during incubation of cocaine craving [79]. The reduction in GluA1-containing AMPA receptors could inhibit the rapid increase in dh shown to be linked to increased relapse vulnerability [55, 56]. Although not yet shown, it would also be of interest to examine the effect of NAC on reducing the basal potentiated resting state of NAcore medium spiny neurons (MSNs) after withdrawal from chronic drug self-administration [63].
4.2 NAC to Inhibit Drug Seeking
Systemic administration of NAC has been shown to robustly decrease reinstatement of cocaine, heroin, and nicotine seeking in preclinical models [44, 45, 63, 80-83]. This reduction in relapse vulnerability has been attributed to the ability of chronic NAC treatment to reverse drug-induced metaplasticity and may serve as a mechanism to chronically restore prefrontal to accumbens glutamate transmission, which serves to provide enduring relapse protection [63, 84]. In support of this, daily NAC treatment given prior to cocaine self-administration sessions has been shown to prevent escalation of cocaine intake, behavioral sensitization, and cocaine-induced reinstatement of cocaine seeking [85]. It has also been shown to reduce cocaine-induced cocaine seeking in rodents [86]. In animals being withdrawn from chronic heroin administration, chronic NAC administration was shown to decrease extinction responding and inhibit cue-induced heroin seeking up to 40 days after discontinuing NAC treatment [82]. Acute administration of NAC has been shown to be effective at decreasing nicotine self-administration and nicotine seeking that is prompted by a previously paired cue [83]. Finally, NAC has been shown to reduce alcohol-induced oxidative stress in rats [39, 40], and therefore may be of interest in the examination of NAC in the treatment of alcohol abuse and dependence. This exploration would also be supported by the literature, as increased glutamate levels have been found in the NAcore during cue-induced alcohol seeking [87].
5 Clinical Literature Review
---
5.1 Safety/Tolerability in SUD Populations
The wealth of preclinical data demonstrating the role of glutamate in addiction, and the overall safety and tolerability of NAC among adults and children when administered orally, has contributed to the preliminary investigation of NAC as a pharmacotherapy for SUDs, specifically in cocaine-dependent adults. To assess the safety and tolerability of oral NAC in SUD populations, LaRowe and colleagues [88] conducted an inpatient, laboratory-based, placebo-controlled, crossover study. This study involved two separate inpatient stays in which non-treatment-seeking, cocaine-dependent adults (N = 13) received NAC 600 mg or placebo every 12 h for 3 days. Two hours after each dose administration, vital signs and adverse events related to the medication were assessed. No differences were found in the number of participants reporting adverse events in the placebo and NAC conditions. Adverse events reported in this study included pruritus (itching), headache, flatulence/diarrhea, abdominal cramps, local rash, fatigue, increased blood pressure, sweating, ears popping, increased appetite, canker sores, chest pain, crying, and dizziness. None were serious and study results demonstrated that NAC was safe and well-tolerated among study participants.
In an outpatient context, two open-label studies assessed safety and tolerability among SUD populations. Several doses of NAC were assessed in an open-label, between-subjects study that recruited treatment-seeking cocaine-dependent adults (N = 23) [89]. Total daily doses of NAC were 1,200 mg (600 mg twice daily), 2,400 mg (1,200 mg twice daily), and 3,600 mg (1,200 mg thrice daily) during a 4-week treatment period with two clinic visits per week. All doses were shown to be safe and well-tolerated among this outpatient population, with the most common adverse events experienced being pruritus, headache, and elevated blood pressure. Retention rates through the 4-week study were higher among the 2,400 mg and 3,600 mg dosing groups, and self-reported cocaine use (biologically confirmed through a urine drug screen) was reduced among participants who were retained in the study. Another open-label investigation of NAC was conducted with cannabis-dependent young adults (N = 24; aged 18–21 years) [90] over a 4-week treatment period with a dose of 2,400 mg/day (1,200 mg twice daily). Similar to previous studies, results showed that NAC was safe and well-tolerated. Adverse events (from most common to least common) included abdominal discomfort, muscle pains/aches, insomnia, headache, nasal congestion, nausea, weight decrease, restlessness, and dizziness. Additionally, reductions in self-reported cannabis craving and use over the 4-week trial were reported among study participants.
These aforementioned studies not only provided much needed safety and tolerability data for NAC among SUD populations, both during periods of active use and abstinence, but also provided preliminary efficacy data to support further investigation. Additional studies have assessed the neural mechanism of NAC in humans through imaging techniques, effects on craving, withdrawal, and drug reward, and, finally, the potential efficacy of NAC in promoting abstinence.
5.2 Neural Mechanism
Only one study thus far has used imaging techniques in humans to assess the neural mechanisms affected by NAC administration. Schmaal and colleagues [75] recruited cocaine-dependent adult males (N = 10) and healthy controls (N = 14) to assess glutamate activity in the dorsal anterior cingulate cortex (dACC) using proton magnetic resonance spectroscopy. This was an open-label, randomized, crossover study in which participants received either a single 2,400 mg dose of NAC or no compound. Each scan was separated by 1–2 weeks. This study showed reductions in glutamate activity (quantified individually, in addition to glutatmate+glutamine) in the left dACC due to NAC administration, but only in cocaine-dependent patients (not in healthy controls). This demonstrated normalization of cortical glutamate levels in cocaine-dependent humans is generally consistent with preclinical work showing excessive glutamatergic signaling after chronic cocaine self-administration. Thus, NAC may work to restore glutamate homeostasis in cocaine-dependent humans.
5.3 Craving/Withdrawal/Reward
Several studies have explored the influence of NAC on craving, withdrawal, and the rewarding properties of substances of abuse to determine if these processes, thought to contribute to relapse, are modified under NAC administration. As part of the same inpatient trial that assessed the safety and tolerability of NAC [88], another study was published that assessed the effects of NAC on cue-induced cocaine craving [91]. Two additional participants were included within that data set (N = 15). Cue reactivity assessments included the presentation of slides depicting cocaine, neutral, pleasant, and unpleasant images. Physiological measures were taken (i.e. heart rate and skin conductance) and, following slide presentations, participants were asked about their craving for cocaine, desire to use, and interest in using. Results showed that with NAC, compared with placebo, participants self-reported less desire to use cocaine and less interest when presented with cocaine-related slides. However, no medication effects were found for ratings of craving.
A translational study was conducted that utilized preclinical and clinical designs to assess the influence of repeated administration of NAC on cocaine seeking (rodents) and craving (humans) [86]. The clinical component assessed cocaine craving and rewarding properties following intravenous cocaine administration through an inpatient, laboratory-based, crossover study design with doses of NAC [1,200 mg/day (400 mg thrice daily) or 2,400 mg/day (800 mg thrice daily)] or baclofen for 3 days. Participants were cocaine-dependent adult males (N = 4). This study found that NAC, compared with baclofen, reduced cocaine craving following an intravenous cocaine injection, but did not alter the reinforcing properties of cocaine. No differences between the 1,200 mg and 2,400 mg NAC doses were found.
Finally, an outpatient, laboratory-based, placebo-controlled study recruited nicotine-dependent young adults (N = 22) [92]. Participants were randomized to receive 3,600 mg/day of NAC (1,800 mg twice daily) or placebo for 3.5 days. Abstinence from smoking was confirmed using breath carbon monoxide (CO) each morning of medication administration, and craving and nicotine withdrawal symptoms were assessed. A laboratory session was conducted on day 4 of the study, in which participants were asked to smoke one cigarette and report on the subjective rewarding effects of that cigarette. Results showed that NAC had no effect on cigarette craving, and only a trend towards reduced withdrawal with NAC. With NAC administration, compared with placebo, the first cigarette smoked after 3.5 days of abstinence was rated as less rewarding. Only mild stomach problems were reported as adverse events in this study in both the placebo and NAC groups.
5.4 Efficacy
All studies discussed above provided sufficient preliminary data to conduct pilot, as well as larger, fully-powered clinical trials to determine the potential efficacy of NAC across several substances of abuse. A pilot randomized controlled trial (RCT) was conducted as part of a translational study to assess glutamate disruption caused by nicotine dependence, and to determine if control could be restored through cystine-glutamate exchange [47]. Specific to the RCT component of this study, nicotine-dependent adult smokers (N = 29) were recruited and were randomized to 2,400 mg/day (1,200 mg twice daily) of NAC or matched placebo for 4 weeks. This study showed a reduction in self-reported cigarettes per day across the treatment period in the NAC group, but only when two participants were excluded due to alcohol and cigarette consumption that was greater than two standard deviations above the mean. However, there was no effect of NAC on CO levels, craving, or withdrawal ratings.
Previous to the exploration of NAC as a pharmacotherapy for SUDs, work was conducted with NAC in smokers, but mainly due to its oxidative and protective properties [93]. Healthy adult smokers (N = 41) were recruited and were randomized to 1,200 mg/day (600 mg twice daily) of NAC versus placebo for 6 months. At the 6-month timepoint, results showed that NAC had reduced tobacco smoke carcinogenicity, modulated cancer-associated biomarkers, and decreased oxidative damage in a generally positive manner. However, NAC did not appear to reduce smoking (verified by cotinine levels).
Another pilot RCT recruited non-treatment seeking methamphetamine-dependent adults (N = 31) to test the efficacy of NAC + naltrexone versis placebo on methamphetamine craving and use [94]. Doses of NAC were steadily increased throughout the study (i.e. 600, 1,200, 1,800, and 2,400 mg/day) in the absence of significant clinical improvement (remained at the current dose if improvements were seen). The intervention phase lasted for 8 weeks. There was no reduction in methamphetamine craving or use throughout the 8-week treatment period, but there was greater dropout from study procedures among the placebo group. Adverse events included nausea and lethargy and did not differ across experimental groups.
Finally, two fully-powered RCTs testing NAC for SUDs have been completed. Gray and colleagues [95] conducted an 8-week, placebo-controlled RCT with cannabis-dependent adolescents (N = 116; aged 15–21 years) and tested the efficacy of NAC (2,400 mg/day; 1,200 mg twice daily) versus placebo, added to contingency management and brief cessation counseling, in achieving cannabis abstinence. In this trial, NAC doubled the odds of having negative urine cannabinoid tests during treatment. The medication was also well-tolerated and no differences were found in the occurrence of adverse events between treatment groups. Adverse events included upper respiratory infection, vivid dreams, insomnia, irritability, and heartburn. Interestingly, although NAC was efficacious in promoting cannabis abstinence, a secondary analysis from this data set found no differential reductions in cannabis craving between the NAC and placebo groups, although craving did decrease over the course of the trial, regardless of treatment group [96]. Therefore, craving seemed to decrease as a function of some undefined variable, but was not attributable to NAC. The second clinical trial recruited treatment-seeking cocaine-dependent adults (N = 111) [97] and tested the efficacy of NAC in promoting cocaine abstinence. Participants were randomized to receive 1,200 or 2,400 mg/day (600 or 1,200 mg twice daily, respectively) of NAC or placebo, added to cognitive-behavioral therapy, during an 8-week treatment phase. Treatment with NAC was not found to reduce cocaine use or craving. Exploratory analyses found that participants abstinent from cocaine at the beginning of the trial and randomized to the 2,400 mg dose of NAC had longer time to relapse and lower ratings of craving. Tolerability of study medication was favorable, with no differences in adverse events between groups. The most commonly reported adverse event was gastrointestinal problems (i.e. heartburn, flatulence, abdominal cramps). This study further supported the safety of NAC, and suggested unique conditions (i.e. abstinence) under which NAC may be most effective.
6 Discussion
---
The trajectory of research on NAC as a pharmacotherapy for SUDs has been well-informed through the preclinical investigation of mechanism. The role of glutamate dysregulation, the target of NAC treatment, has been proposed as a ubiquitous finding and underlying feature across SUDs [20, 21, 98]. This lends strong support to the strategy of employing glutamatergic agents in the treatment of SUDs across multiple substances of abuse. NAC has been shown to be a safe and well-tolerated medication [27] with a long history of use for several conditions, making it a promising candidate for use in the treatment of SUDs. Despite preclinical evidence to suggest the efficacy of NAC, and early phase I and II clinical studies demonstrating safety, tolerability, and potential efficacy, not all pilot trials and fully-powered RCTs have yielded positive results. Of the three pilot or smaller-scale RCTs reviewed above [47, 93, 94], two of the three failed to demonstrate robust reductions in the substance of abuse being targeted. The study conducted by van Schooten and colleagues [93] was unique given the emphasis on measuring oxidative stress due to cigarette smoking, rather than targeting smoking itself. Of the two fully-powered clinical trials discussed above, only one showed positive results in the form of increased likelihood of abstinence from cannabis [95]. Given the promising preclinical and preliminary clinical work on NAC for SUDs, the results of these RCTs are curious, although several alternatives have been suggested to refine the use of NAC in treating SUDs and improve its efficacy.
6.1 Improving the Efficacy of NAC
The majority of the preclinical work conducted with NAC has used a model of reinstatement of drug seeking meant to mimic relapse vulnerability, and many of the most robust findings with NAC have been in the context of a reinstatement model to predict relapse. This suggests that NAC may be most effective under conditions of abstinence, rather than to promote initial cessation. This possibility was discussed by LaRowe and colleagues [97] to account for the finding that participants who were abstinent from cocaine at study entry had better outcomes in the NAC condition compared with placebo. This is an important consideration for efficacy trials. NAC may prove to be an ideal relapse prevention aid when given after periods of abstinence or when combined with other forms of pharmacological and/or behavioral treatments to promote abstinence. It may be that the positive findings in the cannabis cessation trial by Gray and colleagues were a function of the synergy of NAC with contingency management, an established abstinence-targeted behavioral treatment platform [95]. In the cases of forced abstinence from substances of abuse (i.e. inpatient drug treatment, hospitalization, incarceration, etc.), NAC may potentially be used during periods of abstinence and following release to promote continued abstinence. This will be challenging to incorporate into clinical trials, given that methodologies typically administer investigational medication during periods of active use. As above, concurrent treatment with abstinence-targeted pharmacotherapies or behavioral treatments may be an avenue to address this issue and explore NAC as a complement to established cessation interventions.
A notable limitation to the use of NAC for SUDs is its poor oral bioavailability, which is approximately 4–10 % [25, 26]. It is possible that participants are not receiving doses sufficient to demonstrate efficacy in all cases. Recommended doses of 1,200 or 2,400 mg are often given across two to four pills taken two to three times per day, and some studies suggest that higher doses may be preferable for treatment outcomes [89]. Medication dosing at multiple times per day is burdensome for patients, especially those with SUDs, who may also be dealing with psychiatric comorbidity, unstable housing, interpersonal, economic, and/or professional consequences due to their substance use, etc. Improved medication regimens and forms of NAC that are more bioavailable would allow for less response effort on the part of the participant. This would be an important advancement for its use in the treatment of SUDs and may serve to improve compliance rates. With this goal in mind, a recent study discussed the synthesis of an amide derivative NAC amide (NACA) [99]. Preliminary results suggest that this compound has more membrane permeability and bioavailability, which may result in improved clinical outcomes. Alternate formulations of NAC that would only require once a day dosing would also be an important advancement for the clinical viability of NAC.
It is possible that NAC alone is not a sufficient pharmacotherapy to promote abstinence, and it must be part of a more comprehensive treatment plan or combination pharmacotherapy. Treatment for nicotine dependence is an example of how NAC could be used in combination with an already approved smoking cessation pharmacotherapy. Improvements to smoking cessation pharmacotherapy are greatly needed as even the most effective pharmacotherapies only promote abstinence in approximately 40 % of patients [12-14]. Combination pharmacotherapies may target the initiation of quit attempts or initial abstinence through reduced smoking reward or reduction in craving and withdrawal, and may also provide more enduring relapse protection through normalization and restoration of glutamate homeostasis during periods of withdrawal, as is seen with NAC treatment in non-human animal models. A potentially synergistic interaction between NAC and other smoking cessation pharmacotherapies may therefore be achieved. It is also possible that NAC as a pharmacotherapy for SUDs will only demonstrate efficacy when paired with psychosocial support, education and skills-based training, or contingency management. Future research is greatly needed with NAC in combination with other forms of treatment, including as a combination pharmacotherapy, especially in cases of distinct, yet complementary, neurobiological mechanisms.
6.2 Future Directions for Research
Many questions remain regarding the use of NAC for SUDs, both in preclinical and clinical investigation. Preclinically, it will be of interest to examine the ability of NAC to restore basal synaptic plasticity of glutamatergic NAcore synapses via a possible neuron-glial interaction, as well as the ability to inhibit the rapid, transient increase in synaptic plasticity found during cue-induced cocaine seeking. Additionally, it will be important to examine the mechanism contributing to the ability of NAC to restore GLT1, inhibit glutamate overflow, and inhibit activation of extrasynaptic NMDA receptors across different drugs of abuse. Among clinical investigators, more studies are needed to determine the conditions under which NAC is an efficacious pharmacotherapy for SUDs. NAC may be most effective when administered under conditions of abstinence, rather than during active use. NAC as a relapse prevention pharmacotherapy in abstinent cocaine-dependent adults is being explored in a recently funded study sponsored by the National Institute on Drug Abuse (R01DA034054, PI Malcolm). Conversely, studies with cannabis-dependent adolescents have demonstrated the efficacy of NAC during periods of active use [95]. This distinction could be based on differences in the substances of abuse being targeted by the study interventions, the behavioral support used in these clinical trials (e.g. abstinence-targeted contingency management in the cannabis trial), actual medication adherence rates, etc. RCTs assessing the efficacy of NAC that have yielded negative findings highlight the importance of careful consideration of conditions that may contribute to the efficacy of NAC. These and other possibilities are worthy of further inquiry.
The restoration of glutamatergic activity due to NAC following withdrawal in preclinical models has been demonstrated across various substances, including opioids [82]. Despite the consistencies across various drugs of abuse, no studies have been conducted in human participants to determine the efficacy of NAC in opioid dependence, either as a stand-alone treatment or adjunct to opioid-replacement therapies or behavioral treatment. Additionally, the effects of NAC on alcohol withdrawal and other alcohol-induced aversive effects in a rodent model have been explored [39, 40, 100], with promising results. A recent review dedicated to new pharmacotherapies for alcohol abuse and dependence suggested that medications targeting the glutamatergic system may be a promising avenue to explore, including those agents that reduce excess extracellular glutamate (i.e. NAC, among others) [101]. These and other results contribute to the preclinical evidence suggesting that NAC may be an effective pharmacotherapy for several substances of abuse, and that more clinical investigation across substances is needed.
Among the limited clinical work to date with NAC for SUDs, a number of ongoing studies aim to further address the efficacy of NAC. NAC as a treatment for cannabis dependence in adults is being explored through an ongoing, multisite RCT through the Clinical Trials Network of the National Institute of Drug Abuse (NCT01675661). Another RCT is assessing the effects of NAC on cannabis withdrawal (NCT01439828). A third study will assess NAC as a relapse prevention pharmacotherapy in cocaine-dependent participants (R01DA034054, PI Malcolm), while an ongoing inpatient study will assess the effects of NAC on the rewarding properties of cocaine and changes in glutamate activity during abstinence (NCT01392092). Another RCT focusing on comorbidity is assessing the efficacy of NAC on nicotine dependence and pathological gambling (NCT00967005). Finally, an RCT exploring NAC plus naltrexone for the treatment of alcohol dependence is ongoing (NCT01214083). These trials will provide further clarification on the role of NAC in the treatment of SUDs. The number of ongoing studies with NAC is even greater when the scope is extended to psychiatric and compulsive disorders more generally, which may eventually lead to the study of NAC in patients with comorbid SUDs and psychiatric disorders.
An additional area of future research focused on the clinical utility of NAC is in its influence on minimizing damage caused by oxidative stress. Based on evidence supporting the role of oxidative stress as a mechanism underlying psychiatric disorders [36], it will be important to study this specifically for the treatment of SUDs. Oxidative stress as an underlying mechanism of psychiatric disorders, and treatment with NAC, represents a preliminary and promising direction for future research focused on poly-substance use and psychiatric comorbidities.
7 Conclusions
Preclinical evidence supporting the role of glutamatergic dysregulation in addiction has led to clinical investigation exploring glutamatergic targets for the treatment of SUDs. These results have been mixed, but generally show promise. Over 50 years, NAC has been shown to be safe and well tolerated in adults and adolescents. It is being explored as a pharmacotherapy for several indications, including psychiatric disorders, making it a promising agent for those experiencing psychiatric comorbidity or struggling with multiple substances of abuse. The economic implications for effectively treating SUDs and other psychiatric disorders are substantial. NAC has FDA approval and is widely available, while also being relatively inexpensive compared with other pharmacotherapeutic options. If NAC is shown to be efficacious for promoting abstinence and preventing relapse, either alone or as part of a combination pharmacotherapy regimen, the cost savings of preventing future treatment episodes and related healthcare costs would be well worth the additional cost of medication. Future clinical studies should pursue research focused on the necessary conditions required for NAC to be effective in the treatment of SUDs. This may involve the use of NAC as part of a combination pharmacotherapy or as part of a comprehensive treatment plan that works to promote the initiation of quit attempts or initial periods of abstinence. These and other questions will be vital in addressing the deficits that currently exist in the treatment of SUDs and the potential that NAC holds to provide improved treatment outcomes.
Acknowledgments
---
The authors wish to acknowledge the funding sources for this study. Funding was provided by the National Institute on Drug Abuse grants DA031779 (Kevin M. Gray, Erin A. McClure), DA013727 (Kevin M. Gray, Erin A. McClure), DA033690 (Cassandra D. Gipson), and DA003906, DA012513, and DA015369 (Peter W. Kalivas). The funding source had no role other than financial support.
Footnotes
Conflicts of interest Erin A. McClure, Cassandra D. Gipson, Robert J. Malcolm, Peter W. Kalivas, and Kevin M. Gray have no relevant conflicts of interest to report. The authors alone are responsible for the content and writing of this paper. All authors have read and approved the manuscript.
Contributor Information
---
Erin A. McClure, Clinical Neuroscience Division, Department of Psychiatry and Behavioral Sciences, Medical University of South Carolina, 125 Doughty St., Suite 190, Charleston, SC 29407, USA. Department of Psychiatry and Behavioral Sciences, Medical University of South Carolina, 67 President St, Charleston, SC 29425, USA.
Cassandra D. Gipson, Department of Neurosciences, Medical University of South Carolina, 96 Jonathan Lucas St, MSC 606, Charleston, SC 29425, USA.
Robert J. Malcolm, Department of Psychiatry and Behavioral Sciences, Medical University of South Carolina, 67 President St, Charleston, SC 29425, USA.
Peter W. Kalivas, Department of Neurosciences, Medical University of South Carolina, 96 Jonathan Lucas St, MSC 606, Charleston, SC 29425, USA.
Kevin M. Gray, Department of Psychiatry and Behavioral Sciences, Medical University of South Carolina, 67 President St, Charleston, SC 29425, USA.
Alcohol
The antioxidant N-acetylcysteine (NAC) has been found to reduce many types of habitual behavior, from gambling to drug use to compulsive hair-pulling. A recent study by researcher Gihyun Yoon and colleagues, which was presented at a 2015 scientific meeting, found that while NAC and placebo reduced days of heavy drinking by about the same rates, NAC significantly reduced alcohol cravings and quality of life compared to placebo among participants with alcohol dependence.
In the 8-week study, 44 participants aged 18–65 received either 3600mg/day of NAC or a placebo. This dose of NAC was higher than the 600mg–2400mg doses that have typically been used in research settings, and there were few side effects, confirming that NAC is a safe treatment.
The authors are not sure how NAC produces this effect, but it may be by regulating the neurotransmitter glutamate.
Cannabis
Cannabis use disorders (abuse or dependence) are present in 3.6% of adolescents and 5.9% of young adults, compared with only 0.7% of adults over the age of 25 (1). While a small number of large-scale pharmacotherapy clinical trials targeting cannabis dependence have been undertaken, none have demonstrated significant medication effects on marijuana use and none have focused on young marijuana users (2,3). As such, investigation of novel pharmacotherapeutic agents targeting cannabis dependence in young people is an important focus for research.
The neurotransmitter glutamate has emerged as a potential target in the treatment of addictions, including cannabis dependence (4). Within animal studies, the anti-oxidant N-acetylcysteine (NAC) has been shown to reverse drug-induced down-regulation of the cystine-glutamate exchanger (5), which presumably allows for regulation of glutamate release, reducing compulsive drug-seeking behaviors. Consistent with this, preliminary studies have demonstrated significant reductions in cocaine craving (6) and cigarette use (7) during NAC treatment. Taken together, these findings implicate NAC as a potential treatment for addictive disorders, including cannabis dependence. Thus, the purpose of this open-label study was to gather tolerability and preliminary efficacy data for NAC in the treatment of cannabis dependence in young people.
Participants were 24 cannabis dependent males (n = 18) and females (n = 6), age range 18–21 (mean age 19 ± SE 0.16) interested in cutting down their marijuana use (i.e., without requirements to quit). Twenty-two were White, one African-American, and one Hispanic. They were required to be medically and psychiatrically stable, have no allergy or intolerance to NAC, have no history of seizures or asthma, and be free of medications known to interact with NAC.
Participants were enrolled in a four-week open-label trial of NAC 1200 mg twice daily. A baseline visit was followed by four weekly visits (Weeks 1–4) to assess tolerability and clinical effects. Medication was discontinued at the final (Week 4) visit. Participants were encouraged to gradually reduce marijuana use, but no formal cessation instructions or psychosocial treatments were provided.
As assessed by medication adherence logs and weekly pill counts, participants took 82.6% ± SE 2.6% of the scheduled NAC doses during the medication trial. Weekly assessments of adverse events (coded as mild, moderate, or severe) revealed that NAC was generally well tolerated. Fifteen participants (63%) reported at least one adverse event, but all were mild to moderate, and none led to discontinuation of medication. The most common adverse events were abdominal discomfort (5/24), muscle pains/aches (5/24), insomnia (4/24), headache (3/24), nasal congestion/runny nose (3/24), nausea (3/24), weight decrease (3/24), restlessness (3/24), and dizziness (3/24).
Marijuana use during the month preceding participation was quantified at the baseline visit using timeline follow-back procedures. From the initial assessment visit forward, daily marijuana use diaries were completed by participants and turned in at weekly visits. During the month preceding the trial, participants reported using marijuana 6.1 ± SE 0.24 days per week. A generalized estimating equation (GEE) analysis revealed a reduction in reported days per week of marijuana use over the course of NAC treatment (overall time effect: p = 0.003). Post-hoc pair-wise comparisons (comparator: baseline visit) revealed significant decrease from baseline in days per week of use during the second (5.2 ± SE 0.33; p = 0.006), third (5.2 ± 0.39 p = 0.001), and fourth (5.3 ± 0.32; p = 0.03) week of NAC treatment.
During the month preceding the trial, participants reported using an average of 15.9 ± SE 2.4 potency-adjusted "hits" (8) of marijuana per day, and GEE analysis revealed an overall trend-level reduction in "hits" per day over time (p = 0.07). Average "hits" per day decreased to 14.8 ± SE 1.6 at Week 1, 11.6 ± 1.7 at Week 2, 12.4 ± 2.0 at Week 3, and 11.9 ± 2.1 at Week 4. Pair-wise comparison (comparator: baseline visit) revealed significant reduction at the second week of NAC treatment (p = 0.02).
In addition to self-report data, semi-quantitative urine cannabinoid levels (quantitative range 0 to 135 ng/dL) and urine creatinine levels, to determine creatinine-normalized urine cannabinoid levels, were collected at each visit to serve as a biomarker of marijuana use (9). In contrast to self reports, semi-quantitative, creatinine-normalized urine cannabinoid levels did not significantly change over the course of the trial. Of note, though, 13 participants remained above the semi-quantitative urine cannabinoid range (0 – 135 ng/mL) throughout the trial, thus limiting the utility of this measure.
Craving for marijuana was measured using the 12-item version of Marijuana Craving Questionnaire (MCQ) (10). The four domains of the MCQ represent four constructs characterizing marijuana craving: Compulsivity (inability to control marijuana use), Emotionality (anticipation of using marijuana to relieve withdrawal or negative mood), Expectancy (anticipation of positive outcomes from smoking marijuana), and Purposefulness (intention and planning to use marijuana for positive outcomes). GEE analyses revealed that participants reported significantly reduced ratings on three of the four MCQ domains over the course of NAC treatment (MCQ Emotionality p < 0.001, Purposefulness p = 0.003, and Compulsivity p = 0.008)
To our knowledge, this is the first study to date investigating the effects of NAC in young people with cannabis dependence. Results from this preliminary open-label study indicate that treatment with NAC was well tolerated and associated with significant decreases in self-report measures of marijuana use and craving. These reductions parallel those noted in prior NAC treatment studies in cocaine and nicotine dependent individuals (6,7). Although the present findings should be interpreted in light of the limitations of this preliminary study (i.e. open-label study without a control group, limited semi-quantitative urine drug testing), data strongly suggest the need for a more rigorous examination of NAC for treatment of cannabis dependence.
Acknowledgments
---
Funding was provided through NIDA grants K12 DA000357 (KMG) and K23 DA020482 (MJC), and by USPHS grant M01 RR01070 (Medical University of South Carolina Clinical and Translational Research Center). The authors also wish to thank Doug Christie for invaluable contributions to the conduct and management of this study.
Ingredients